Maya Angelou is immortal because of her words and activism.
When I was a junior in college, I went with my friend Pavani to watch her speak. That week, Pavani and I had been practicing the Indian national anthem for an upcoming cultural show. Pavani is a phenomenal singer and had been teaching me about various ways to practice, on and off stage. We got to Maya Angelou's talk early and sat in the first row. When she came out, she immediately began singing, and the entire auditorium was hushed. It only took ten seconds for Pavani and me to have tears in our eyes. That, we later agreed, was stage presence. Power. Since then, I haven't seen anyone with that same ability to both stir and silence.
These are some of my favorite lessons from her. The world lost someone great yesterday but her presence will always linger.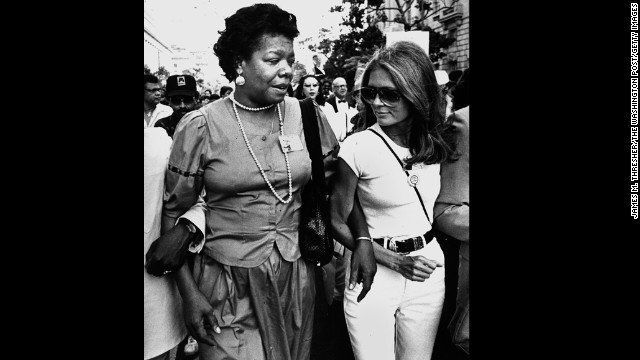 Maya Angelou and Gloria Steinem
1. Know what nurtures you
"Every woman should know where to go, be it her best friend's kitchen table or a charming inn in the woods, when her soul needs nurturing."
2. Be careful who you give second chances to
"When someone shows you who they are, believe them the first time."
3. Cultivate courage
"I believe the single most important beyond discipline and creativity is daring to dare."
4. Never forget the thread of humanity that binds us all
"If we lose love and self-respect for each other, I believe we finally die."
5. Don't ever let anything bring you down
"You may write me down in history with your bitter, twisted lies, you may trod me in the dirt, but still like dust, I rise"
She has so many more gems about everything from writing to embracing healthy body image to leaving relationships that no longer serve you.
May she rest in peace.